In 2015, the State of Ohio adopted new regulations which require that local health departments issue an operation permit for all households with a sewage treatment system (STS). Each STS will receive a permit that identifies a permit length, how often the STS needs to be inspected, and the maintenance requirements.  The goal of this program is to improve the water quality in Summit County and the surrounding watersheds. 
You can view our brief Operation Permit Program presentation here.
Why did I get a bill?
The bill that was received is the operation permit for the STS and it includes permit information. SCPH is required to issue permits for all STS and to ensure that each system meets its maintenance requirements. The permit length and maintenance requirements change based on the type of STS.
What do I have to do?
Pay for the permit and have the STS inspected by a registered service provider to meet the terms of the permit. Permit terms and maintenance requirements vary based on the type of system you have. Please see the example operation permit pictured below. In this example, the homeowner would need to hire a service provider to complete one maintenance inspection between January 1, 2020 - December 31, 2021.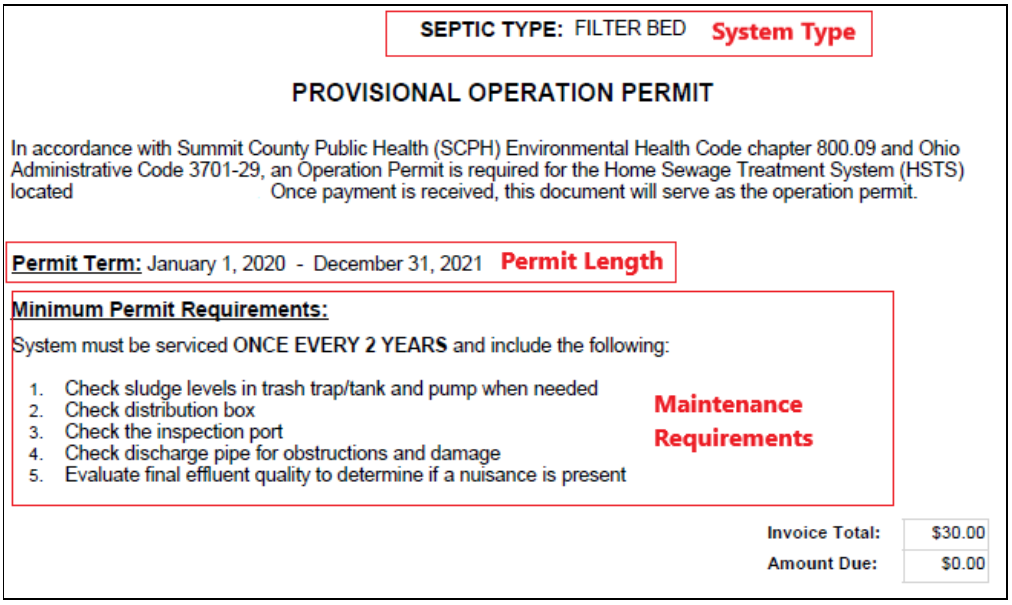 Does the bill I paid to SCPH cover the required maintenance inspection?
No. The fee that was paid to SCPH does not cover the required maintenance inspection(s). The fee pays for the cost of maintaining all STS records, reviewing maintenance reports from service providers, hosting homeowner education classes, and following up on STS that are failing.
I already get my tanks pumped. Is that good enough?
No. While getting your tanks pumped out is good maintenance for your system, the STS pumper may not look at all of the STS components (leach lines, motors, UV lights, pumps, discharge quality, etc.). The operation permit requires that the entire STS be evaluated.
Please visit the Homeowner Resources Page for more information
If you live in a home that has a sewage treatment system, please complete this brief survey through Summit & Soil Water Conservation District regarding your thoughts on routine maintenance.
(Click on image below to be taken to survey link.)