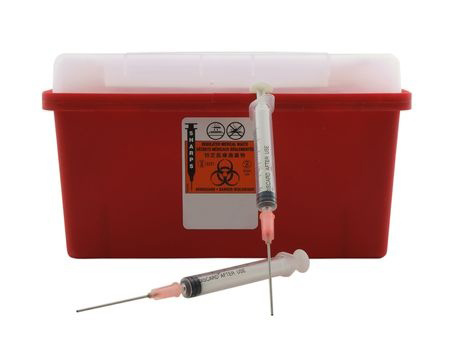 Summit County residents can participate in this program by bringing in full sharps containers for disposal to our Environmental Health division at the Fairway Center location (Building C, 1867 W. Market St., Akron, Ohio 44313 - behind Acme #1).  Residents can also purchase new empty sharps containers at this location.
There is a charge of $5.00 to dispose of full 1-gallon or smaller sharps containers and an additional charge of $5.00 to purchase a new 1-gallon sharps container. Residents may bring in sharps containers larger than 1-gallon; however there will be a $10 disposal charge for any sharps container larger than 1-gallon.
The Environmental Health division is open from 8:00am to 5:00 pm Monday through Friday. The Sharps Program is also available through our Graham Road Clinic (1100 Graham Road Circle, Stow, Ohio 44224) as well. Please  call the central scheduling line (330-375-2772) ahead of time to make sure someone is available to accept the sharps. For more information about this program, please call 330-926-5600.