VAX-on-the-SPOT FIRST Dose  $100 incentive information for managed care participants. Click HERE.
VAX-on-the-SPOT Booster Dose  $100 incentive information for managed care participants. Click HERE.
Monthly COVID Drive-Thru Vaccination Clinics:
Free - No appointment needed.
Currently ages 5 and older.
1st, 2nd & Booster doses of Moderna & Pfizer vaccines provided in accordance with current CDC guidelines.
Bring ID & previous COVID vaccine record.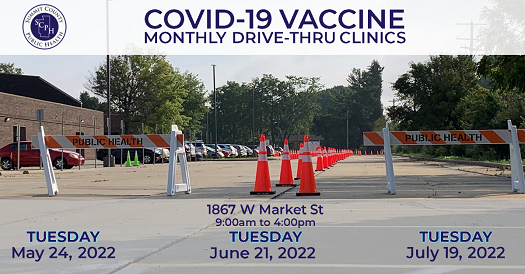 Click on image below for pdf.

 

Schedule your booster with SCPH by going to: scph.link/gettheshot.
Who is Eligible for the 2nd Booster?
If it has been at least 4 months since your 1st booster dose and...
People who received Johnson & Johnson's Janssen COVID-19 vaccine for their first shot & booster

Adults ages 50 and older

People age 12 and older (Pfizer) or 18 and older (Moderna) who are moderately or severely immunocompromised
See the more from the CDC by clicking HERE.
COVID-19 vaccination services will be offered through our indoor clinic at 1867 W Market Street.
        All in-stock brands will be available and administered in line with current CDC recommendations.
        Any person ages 5 and older can be seen. Children under 18 must have a parent or legal guardian present for vaccination at SCPH.
        Appointments are required. You can schedule by going to: scph.link/gettheshot
New MAY 2022 - Information on COVID Vaccines For children & Teens from the CDC
As children and teens continue to get vaccinated against COVID-19, CDC is excited to share new resources for parents, vaccine providers, and partners.
A new website for parents and caregivers includes information on COVID-19 vaccination for children and adolescents.
Two new fact sheets are available in nine languages that can be printed and shared.
List of resources for vaccine providers is available to help support conversations with families about vaccination and to highlight ways to improve vaccine accessibility for children, including those with disabilities and special healthcare needs.
Jurisdictions, community partners, vaccine providers and others can visit COVID-19 Vaccination for Children for up-to-date information and resources to help inform planning for pediatric vaccination.
Children & Adolescent COVID Vaccine Information from ODH  
 3rd Dose Pfizer/Moderna Information

Got to gettheshot.coronavirus.ohio.gov to find a vaccine provider near you.

If are a Summit County, OH resident or participated in a SCPH vaccination event and you've lost your vaccination card(s), please click HERE to fill out a request form. The documentation will be mailed out in 7-10 business days. *This will be a print-out of your vaccination record (8.5x11) or a pdf file if you have it emailed. You will not receive a card. Alternately, you can contact your primary care provider to see if they can provide this documentation.
Ohio Department of Health Searchable Vaccine Provider Database 
Choosing Safer Activities Vaccinated compared to Unvaccinate