Click on calendar below for pdf version.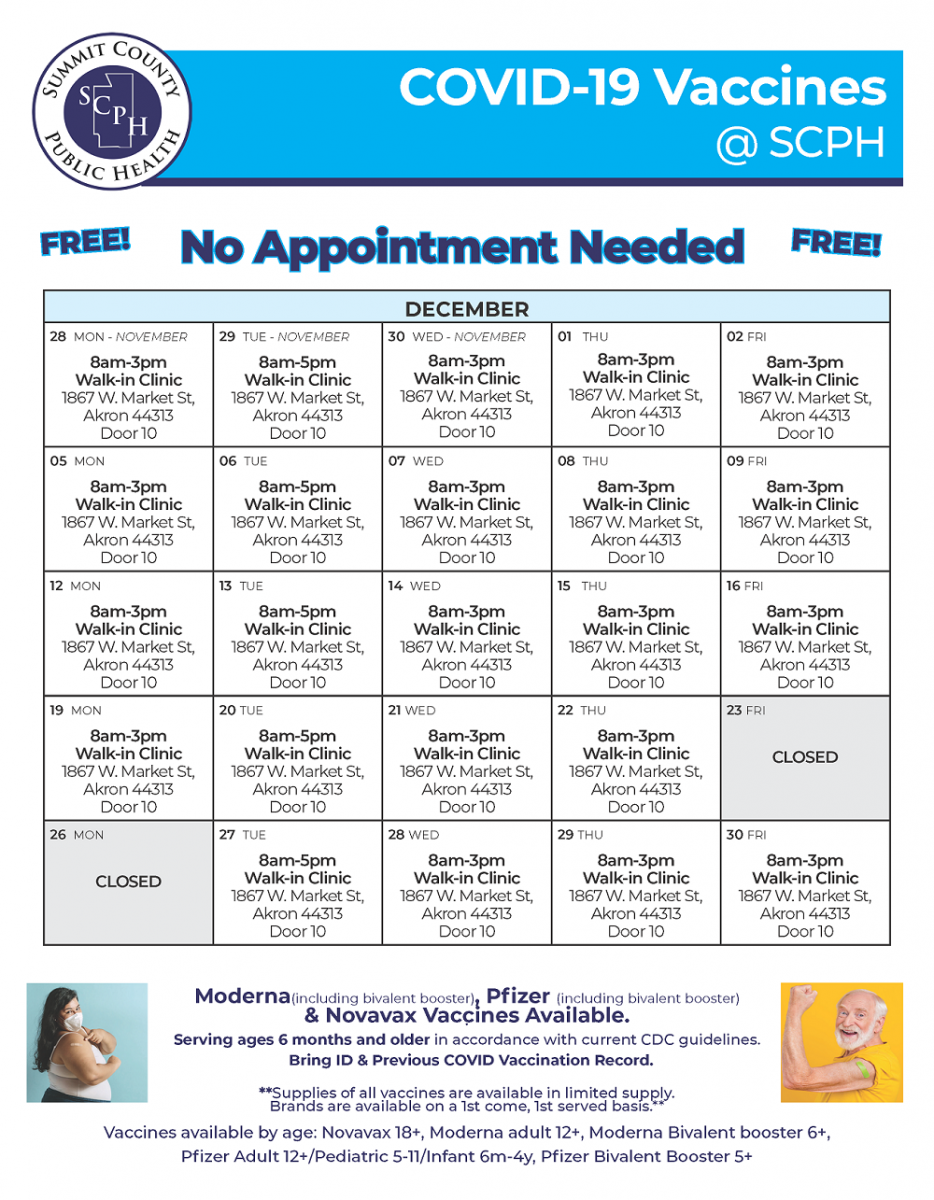 COVID-19 Vaccinations for Children Under 5
SCPH only has Pfizer-BioNTech Vaccine for children under 5. Children will be seen in our clinic at 1867 W Market Street, Akron, OH 44313. 
 

Click the link above to see the current COVID protection measures, including masking, recommended by the CDC.
SUMMIT COUNTY, OHIO RESIDENTS ONLY: Report postitive results from an un-proctored, at-home COVID test at: tiny.cc/hometest19
New MAY 2022 - Information on COVID Vaccines For children & Teens from the CDC
As children and teens continue to get vaccinated against COVID-19, CDC is excited to share new resources for parents, vaccine providers, and partners.
A new website for parents and caregivers includes information on COVID-19 vaccination for children and adolescents.
Two new fact sheets are available in nine languages that can be printed and shared.
List of resources for vaccine providers is available to help support conversations with families about vaccination and to highlight ways to improve vaccine accessibility for children, including those with disabilities and special healthcare needs.
Jurisdictions, community partners, vaccine providers and others can visit COVID-19 Vaccination for Children for up-to-date information and resources to help inform planning for pediatric vaccination.
Children & Adolescent COVID Vaccine Information from ODH  
CDC COVID-19 Community Spread Tracker   

Go to gettheshot.coronavirus.ohio.gov to find vaccine providers near you.
---
It is important for Summit County residents to continue to follow standard precautions to prevent the spread of infectious diseases. CLICK on any of the icons below for more information.
---
Still Have Questions?
Summit County Public Health's call center is ready to answer your questions at (330) 926-5795. The call center is staffed from 9 am to 4 pm, Monday - Friday.
---
page reviewed 10/31/2022