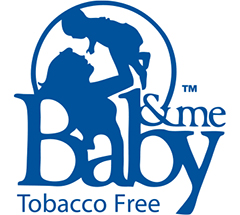 Are you pregnant and smoking? Do you want to quit?
Schedule an appointment with a Tobacco Treatment Specialist.
Quitting smoking is the best thing you can do for the health of you and your baby. Enroll in the Baby & Me Tobacco Free program and participate in 4 prenatal 'quit smoking' sessions. Quit smoking and stay quit during your pregnancy. Agree to take a monthly breath test to prove you are tobacco free. If you stay smoke free after your baby is born, you can receive a monthly voucher for free daipers for up to 12 months.
Agencies please fill out this Fax Referral Form and fax to 330.923.6370
For more information, please contact:
Tameka Austin
(330) 926-5756