Click image below to get printable pdf.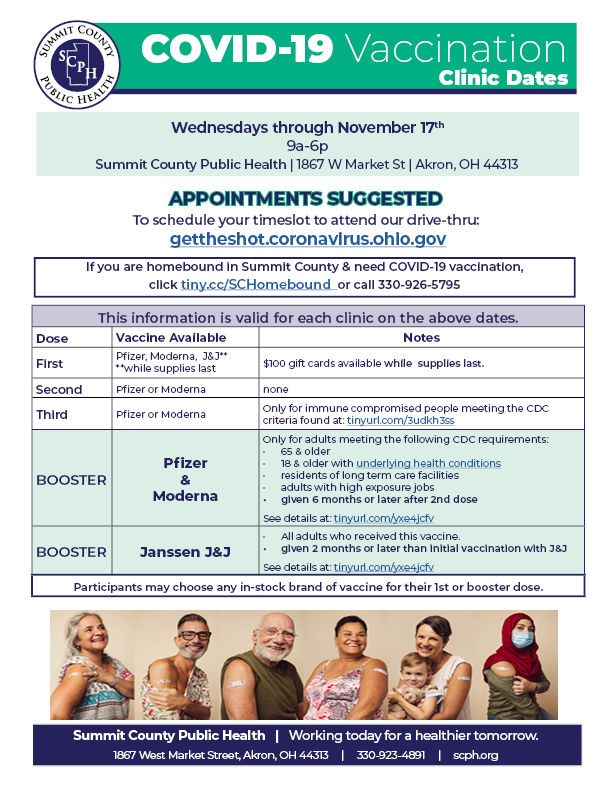 3rd Dose Pfizer/Moderna Information

Got to gettheshot.coronavirus.ohio.gov to find a vaccine provider near you.
Book by phone: 1-833-4-ASK-ODH (1-833-427-5634)

If are a Summit County, OH resident or participated in a SCPH vaccination event and you've lost your vaccination card(s), please click HERE to fill out a request form. The documentation will be mailed out in 7-10 business days. *This will be a print-out of your vaccination record (8.5x11) or a pdf file if you have it emailed. You will not receive a card. Alternately, you can contact your primary care provider to see if they can provide this documentation.

See Ohio's most current list by clicking here.
Any ohioan aged 12 & older if getting pfizer or 18+ for J&J or Moderna
**A parent or legal guardian will need to accompany anyone under 18.**
SCPH  2nd COVID-19 Dose Scheduling in Line with CDC Guidance 
Ohio Department of Health Searchable Vaccine Provider Database 
Choosing Safer Activities Vaccinated compared to Unvaccinate