News
On The Table
Aug 26, 2019
Your voice matters: Join us for On the Table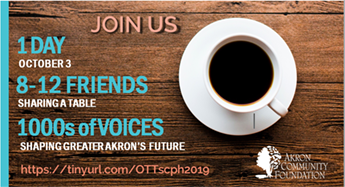 On the Table Greater Akron is a one-of-a-kind initiative where thousands of diverse residents from all walks of life gather together to share a meal and discuss meaningful ideas to strengthen our community. Akron Community Foundation is championing this initiative and invites anyone who lives, works, worships or attends school in Summit or Medina counties to mealtime conversation with their family, friends, neighbors or colleagues.
Summit County Public Health will be hosting breakfast and discussion on Thursday, Oct. 3 from 8:30 - 10:30am, and we invite you to join in the conversation with us. This year's conversations will focus on:
Drugs and Addiction

Our Aging Seniors

Diversity, Equity, and Social Inclusion
Please visit https://tinyurl.com/OTTscph2019 to register or go to onthetableakron.com for more information.